Kitchen Krawl Charity Fundraiser
VBTTF Kitchen Krawl Charity Fundraiser
ECPI University Culinary Institute of Virginia
Saturday, May 4th, 6:00 p.m. to 9:00 p.m.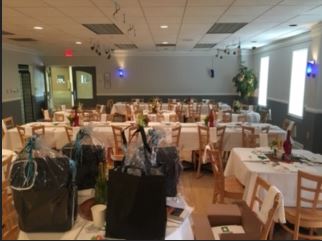 The Virginia Beach Travel and Tourism Foundation (VBTTF) hosted a Kitchen Krawl Charity Fundraiser on Saturday, May 4th, 6:00 p.m. to 9:00 p.m. at the Culinary Institute of Virginia (CIV) to celebrate Italy's "Roman Feast" holiday, which occurs annually in May. This event raised monies for the VBTTF's college scholarship program and workforce development efforts supporting our city's hospitality industry, which is the second largest sector of the Virginia Beach economy. The VBTTF is a 501 (c) (3) Not for Profit Organization so financial contributions were tax-deductible. All proceeds of the ticket sales were donated to the VBTTF by the CIV.
CIV professional chef instructors taught participants how to prepare a delicious Roman Feast three-course Italian meal.
The Kitchen Krawl utilized multiple kitchens each staffed by a CIV instructor specializing in one of the meal's courses.
VBTTF guests were divided into small teams and assigned a start kitchen. Every thirty minutes the teams moved to the next kitchen to prepare a dish.
At the end of the Kitchen Krawl, each team cooked in the appetizer kitchen, the entree kitchen, and the dessert kitchen. Each CIV chef ensured the greatest possible learning experience for each of our guests.
Learning was never this much fun or tasty. When the cooking was done, teams reconvened in the CIV dining room to share and enjoy the Roman Feast that they had prepared collectively.
Needless to say, there was lots of friendship, food and drinks, festivities, and fundraising. As they say in Italy, "Aveneti finisci di mangiare" or Come, sit, eat and enjoy, which you can see by the event photographs below.
Thank you very much
ECPI University
and their
Culinary Institute of Virginia
for this exciting and new experience. It was an excellent evening!
Thank you to the following businesses and individuals whose sponsorships helped make the Kitchen Krawl Charity fundraiser such a financial gain for the VBTTF.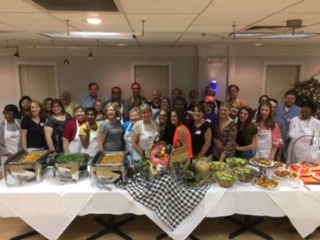 VBTTF
Kitchen Krawl Charity Fundraiser
Platinum Sponsorship
Andrew Gladstein, www.chefva.com
Gold Sponsorship
Delceno Miles, www.themilesagency.com
Larry Weinstein, www.avisbudget.com
Ron Kuhlman, CVB, www.visitvirginiabeach.com
Silver Sponsorship
Lori Overholt, www.vsaresorts.com
Ken McDonald, www.imgoingevents.com
Michael Harris, Lynnhaven Mall www.brookfieldpropertiesretail.com
Bronze Sponsorship
Diana Burke, www.VBHA.net
Stacey Shiflet, www.dineinvb.com
Dawn Provost, www.townebank.com
Larry Barry, www.AESVA.com
Michael Camden, www.Troy.edu